Research on the future of IT shows that platform-based business models will inevitably be the core of any business strategy in the near future. However, for such business models to be successful and generate the targeted ROI, organizations must redefine their legacy models to a simple and agile architecture built on microservices and the cloud.
Techcello is one such platform, which has pre-build modules available in the form of containers and microservices. It is a SaaS development and modernization suite, which can be used for the following use cases:
Our offerings help organizations navigate their shift to microservices and overcoming the greatest risk of
Legacy IT core

Losing out to competition

Customer Dissatisfaction

High operational and Maintenance spend
The greatest advantage of Techcello is that it is highly customizable and can be tailor-made to fit the customer's requirements. The integration with these components is completely pluggable via Rest API calls or Event-driven architecture.
Techcello offers two product suits as listed below
SaaS Development/Modernization Pre-Built Modules
The modules of this suit can be either used individually or can be all used together.

This entire suit is ideal if you are building a new SaaS product.

If you already have a SaaS application, you can pick and choose the modules as per your need.

These modules are especially ideal fit if you are adopting microservices as these modules are offered as independent containerized microservices.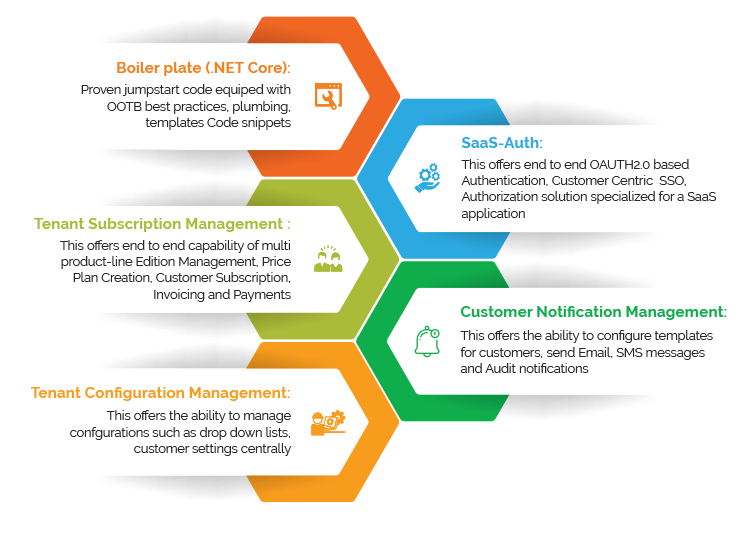 Microservices Development/Modernization Pre-Built Modules
The modules of this suit can be either used individually or can be all used together.

This entire suit is ideal if you are modernizing your SaaS application to microservices architecture or building a new application using microservices architecture