Infusing Speed and Scale to Your IT Architecture
Today organizations are looking at microservices and API to gain competitive edge, ensure IT simplification and accelerating the move to cloud. Augmenting your architecture and platform from monolithic to microservices provides your organization with a scalable, stable, simpler, adaptable, reusable, and an agile solution to most of your IT challenges.
Techcello's approach to microservices is more feasible and diverted to making your IT future ready. It provides your business with flexibility and scale while enabling the quick adoption of market dynamics and technological advancements. By leveraging the adaptive architecture, Techcello helps our customers reap cloud benefits along with enhanced functionality. We combine applications, business processes and data by containerizing them into hybrid microservices. Techcello is highly customizable and can be deployed on cloud; on-premise or both while driving orchestration.
To summarize, the following prerequisites are imperative before you migrate from a monolithic architecture to microservices:
A solid architecture for microservices including Software architecture, deployment architecture and DevOps architecture

Base modules or cross cutting modules fitting the microservices pattern using best practices

Boiler plate quick start for microservices with best practices embedded for quality and standardization

Microservices operational services to collaborate, run and operate microservices
Satisfying all the above criteria and building a microservices architecture is complex and expensive. The process without any expertise or experience will become a continuous loop of high maintenance processes and will look like: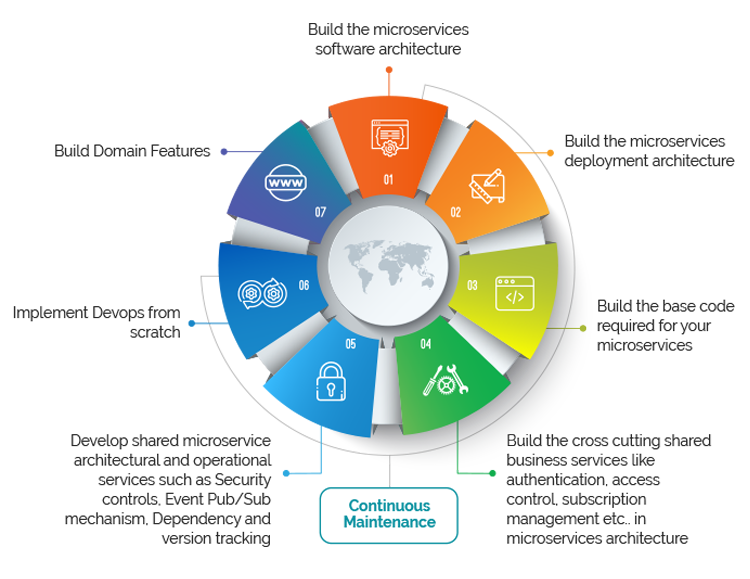 As the above architecture depicts, continuous maintenance is a laborious tasking costing significant amount of time, money and resources. Although, these components have no direct influence on your business it is a mandatory process for anyone trying to build a microservices architecture based on SaaS application. Moreover, the process does not stop with just building, it is an ongoing process of maintaining, bug fixing and enhancing costing huge amount of effort and money. With Techcello, we can achieve the entire step depicted above in just two easy steps: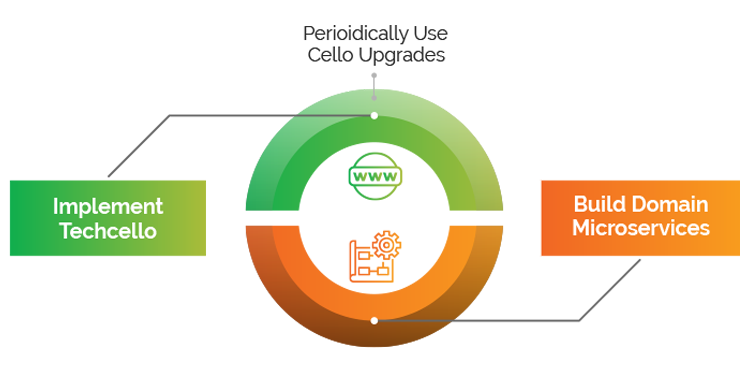 An Integrated View of your Application with Techcello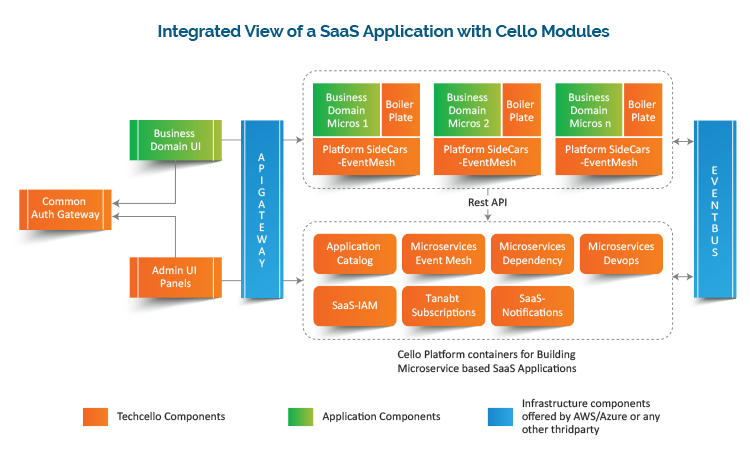 Business Benefits
Techcello provides your business with
An exponential jumpstart to migrate your monolithic application to a microservices model saving both cost and time

A strong time tested foundation to build your domain microservices without much hassle thereby reducing rework

Flexibility to upgrade to the latest Techcello versions periodically thereby significantly reducing maintenance effort